Wishing You a Happy New Year
I know that it is already 2008 in most of the world, but I just wanted to say thanks for reading and commenting here. I'm amazed and pleased that you stop by my blog.
I hope that 2008 is kind to you and is filled with more hope than despair.
Kian
is on my lap as I type this, chattering away and clearly intent on making a break from Mommy's lap. Chas is washing dishes and Angie is attempting to finish dinner so that we can introduce
Kian
to our Family New Year's Tradition--Watching The Jungle Book (animated). Singing and cavorting around the living room are involved. It's a cozy good time.
Just forfun, here is a little glimpse of me, created by my husband in
meez
. I added an anklet, which you can't see, but pleases me because I know it is there. I think only three people (including Chas) reading this blog have actually seen me in person, so you must trust me when I tell you that this is a reasonably good representation of me, as close as any animated
gif
will be. I was tempted to add the floor length Winter Goddess robe (in purple), but I couldn't stop giggling--even animated me can't quite pull that off. The black leather international spy top was right out as well. So here you have simply me: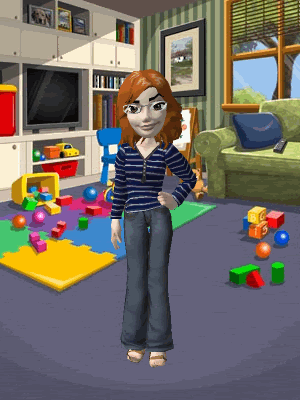 Wishing you peace, joy, love, hope, happiness and other good things in the new year.